If you are having difficulty managing your money, paying your rent or bills or making ends meet, you are not alone. Your finances might have been hard hit by the pandemic, an unexpected illness or a relationship break up. Or you may be struggling to find paid work or balancing work and study or other commitments like caring for your family.
We're hearing that young women are taking on more debt, going without meals so their children can eat, and struggling to make their cash last till the end of the month. All this causes real fear, dread and anxiety but getting expert advice and taking control will help.
Take control of your finances
Here are some of the organisations you can reach out to:
Money and benefits
For advice on managing your money, getting out of debt and benefits you may be entitled to:
Turn2Us has emergency funds if you need money urgently. Call the free helpline 0808 802 2000 Monday to Friday, 9am – 5.30pm.
Turn2Us benefits calculator will help you find out what benefits you can get and their Find an Advisor tool allows you to search for advice on benefits, housing, jobs, legal issues and other practical help.
National Debtline gives free debt advice over the phone and online. Use their cost of living hub to find out if you can pay less for your living costs and to learn about any extra help that might be available.
Money Helper government information to help you make choices about your everyday money, caring for your family, savings and your pension.
Step Change provides free online debt and budgeting advice and practical plans to get your finances back on track. Answer a few simple questions online and they will help you to find the right help.
entitledto is a free online benefit calculator that will help you to work out what you are eligible to claim. Benefits may include help with your living costs, paying your rent or providing for children.
Grants and funding
For help finding financial support for work or study: 
Grants Search is a Turn2Us tool which will help you search for grant opportunities. Charitable grants are not loans so they do not need to be paid back. They can provide money for a range of products and services such as to buy white goods or furniture for your home, clothing for children or to pay for respite care for a relative you care for.  Start by entering your postcode to find grants in your area.
Care to Learn is a government scheme that will help you with childcare costs while you study. You must be under the age of 20 at the start of your course to qualify and studying a publicly-funded course in England. 
Cost of living
For free advice and practical support for you and your family:
Trussell Trust will help you find your local food bank if you cannot afford food. To get a food parcel from a food bank, you'll need a voucher. Vouchers are issued by a wide range of care professionals such as doctors, teachers, health visitors and social workers who identify people in crisis. Your local food bank can tell you which agencies can help you. Find your local food bank here.
Citizens Advice offers free impartial advice on managing your bills, your energy supply, housing, mortgages and eviction, grants and benefits, the law, immigration, asylum, crime and your rights at work. You can get advice online, over the phone and in person at a Citizens Advice centre near where you live.
Help for households is the UK government's means-tested help with the cost of living including household costs such as water, energy bills, TV licence and broadband, income support and help with travel costs and childcare. You'll also find a useful list of discounts and offers from utility companies, retailers and supermarkets.
For help with your energy bills, LEAP is a free service that is helping people keep warm and reduce their energy bills. You may be eligible for energy support or a new boiler if you are in fuel poverty or someone in your household is vulnerable. Find out if you are eligible.
If you are struggling to heat your home, you can search for warm spaces in your community, such as a library or church hall, where you can spend some time during the day to keep warm.
---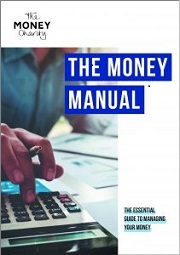 The Money Charity has produced a handy and easy to read Money Manual which is available to download as a PDF or order in the post.
The Money Manual offers handy tips and advice on the ins and outs of everyday money, how to recognise and tackle debt, understanding financial products, the best savings options for you and your needs as well as planning for your future.